WHAT COULD BE DIFFERENT AROUND HERE?
It was his 2-year anniversary as owner of Freddie's Fast Falafel, a standalone quick serve restaurant (QSR) specializing in Mediterranean foods and beverages that can be eaten on-the-go, including pita sandwiches and wraps. His restaurant concept had started out strong, but now was beginning to lag.
Eddie, a loyal patron of Freddie's since the day they had opened, came in one day and shared, "Hey Freddie, lately my orders have been mis-packed and the drive thru has been taking really long. What's going on?"
Freddie kept thinking, "The restaurant has great food, friendly service, and a fantastic location, how can I get this back on track?"
Freddie proceeded to observe a few local QSRs that were doing great business. He found that the most successful drive thru services were speedy, their orders were accurate, and they had systems and technology in place that helped with performance. "This is what I want for my restaurant!" he exclaimed.
To Freddie, the solution was clear and in sight. He knew it was time for a renovation. Freddie was inspired to begin his search for the most advanced technologies in the industry.
WHAT RESTAURANT OWNER DOESN'T WANT TO DRIVE SALES, IMPROVE CHECK AVERAGES AND INCREASE PRODUCTIVITY?
Like most QSRs, Freddie's Fast Falafel has 60-70 percent of its business go through the drive thru.
A well-performing drive through operation has:
Speed and execution
Service attributes that meet or exceed customers' expectations
An order confirmation system that ensures order accuracy
Suggestive selling and timing methods in place
A great overall experience
Oftentimes success in this business is determined by partnering with the right vendors that can supply the technology to take your operation to the next level.
Freddie discovered that Delphi Display Systems offers a fully-integrated drive thru technology platform. The Delphi Insight® platform includes:
Insight Track® speed-of-service timing and performance measurement,
Insight Verify™ order confirmation,
Insight Inform® drive thru headset communication, and the
Insight Engage® digital menu and content management system.
The integrated platform ensures restaurant operators that all the technology works together right out of the box, and they have a single contact for support and upgrades. After a phone call with Delphi's friendly and knowledgeable staff, his store was on its way to improving drive thru performance.
SO HOW DID HE DO IT?!
A successful drive thru operation translates to higher customer satisfaction, repeat business, and more profit. Keeping track of metrics will help a QSR reach its goals and objectives.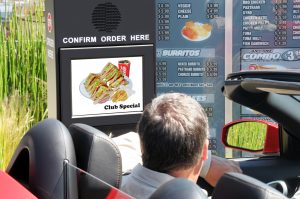 ORDER CONFIRMATION DISPLAY BY DELPHI DISPLAY SYSTEMS
The Insight Track solution provides real-time visibility into drive thru performance. The system compares speed-of-service timing data with sales data down to the individual items ordered to present a detailed picture of their drive thru operation. Insight Track also automatically directs Freddie's team to focus on the area (for example order point or pick up window) that currently needs their attention most. Soon, Freddie's Fast Falafel employees were reading up-to-the-second vehicle timing information on high-resolution in-store LCD screens to optimize the drive thru.
The Insight Verify Order Confirmation System (OCS) ensures satisfied customers with drive thru order accuracy by confirming the customers' orders and upselling when appropriate. The Endura™ 15V  Order Confirmation Display accompanies Insight Verify software, providing a bright, clear confirmation of the customer's order, thereby avoiding mis-packs. As a result, Freddie's Fast Falafel saw a surge in check averages, improved speed-of-service, and an increase in customer satisfaction.
Delphi's order confirmation systems are the most reliable in the industry, built to withstand the harshest of elements, and are covered by a 5-year warranty. Freddie won't have to worry about replacing anything for a long time!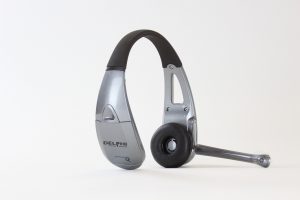 INSIGHT INFORM HEADSET
Delphi's Insight Inform Wireless Drive Thru Headset System offers enhanced sound clarity, improved speed-of-service and a better customer experience. State-of-the-art noise suppression in the headset and customer mic make certain Freddie's customers and employees can hear each other clearly even with noisy vehicles or kitchens, thereby reducing customer frustration by getting the order right the first time. Now, Freddie's crew members can receive S-O-S (Speed-of-Service) Alerts, voice prompts in their headsets, when vehicles exceed day part targets at any timing point in the drive thru. Before he knew it, Freddie's employees were making their targets!
QSR restaurants have to make powerful and effective impressions quickly to influence a customer's buying behavior. Delphi's Insight Engage digital menu system offers many ways to enhance customer experience and increase sales via dynamic & flexible content. Delphi's drive thru digital pre-sell and ordering menu boards are fully sunlight readable, professional grade, high bright screens built with redundant player hardware and designed for high reliability 24/7 operation. Now, Freddie's customers won't have a problem quickly placing their orders at the drive thru!

Delphi's digital menu boards are supported by Insight Engage content creation and management software which is designed to turn drive thru and indoor menu boards into selling tools, creating interest and attention to the areas of the menu that drive profit to the bottom line. With all the tools necessary to manage the content for both outdoor and indoor digital menu boards, Freddie's Fast Falafel can begin to deliver compelling HD content for promotions and vibrant cross-sell and up-sell messages during the pre-sell and ordering stages of the drive thru process. With Delphi's Insight platform in place, Freddie began engaging, influencing and optimizing sales and improving the customer experience in no time!
Delphi's platform technology solutions can help restaurants create a top notch overall experience by engaging employees in a culture of speed and timing excellence, thereby improving productivity and running more operationally efficient.