COMPLIANCE GUIDANCE FOR RESTAURATEURS – PART 2
(Continued from last week)
The 2010 Patient Protection and Affordable Care Act (PPACA) Section 4205 establishes national menu labeling requirements for specified classes of restaurants and vending machines. As a result, nutritional disclosure and response to nutritional concerns are among the most important issues for the restaurant industry to address.
Last week, we introduced the new menu labeling requirements for restaurants, concerns over maintaining compliance, and what information is important to guests.
Eddie sure was glad that the Food and Drug Administration created a national standard for menu labeling at restaurants.  It would just be a matter of time before he would find consistent nutritional information at all of his favorite chain restaurants. He looked forward to the instant communication that nutritional and caloric information placed alongside a menu item could offer in making more health-conscious food-related decisions.
What needs to be disclosed?
Continuing the discussion, it is important for restaurant operators to know what nutritional information the law will require them to provide to their customers.
1. Standard Menu Items that appear on indoor and drive-through menu boards should include:
A nutrient content disclosure statement adjacent to the name of the standard menu item should consist of the number of calories contained and suggested daily caloric intake.
Restaurants should notify consumers that additional nutritional information is available upon request.
2. Self-Service Food and Food on Display sold at a salad bar, buffet line, cafeteria line or similar self-service facility, and for self-service beverages or food on display, will require a sign be placed next to each food item listing calories per displayed food item or per serving.
3. To be determined: Variable Menu Items listed as single item but come in different flavors, varieties, or combinations will need to be disclosed through means determined by The Secretary, including ranges, averages, or other methods. These items include soft drinks, ice cream, pizza, doughnuts and kid's combo meals.
WHAT DOES NOT NEED TO BE DISCLOSED?
Items not listed on the menu board such as condiments and other items placed on the table or in bins for general use
Daily specials, custom orders or temporary menu items appearing on the menu for less than 60 days per calendar year
Food that is part of a customary market test appearing on the menu for less than 90 days.
WHAT ARE THE BEST WAYS TO INFORM MY CUSTOMERS?
Consumers want and use nutrition information. According to a 2006 report in the American Journal of Public Health, when given nutrition information on food served in restaurants, diners are 24 to 37 percent less likely to choose high-calorie menu items.  Some, but not all, quick serve restaurants have made nutrition information available in various ways but the information is not always accessible at the point of purchase or ordering. This needs to change!
TOP 4 WAYS TO CONVEY YOUR MENU INFORMATION:
Food identification icons
Online menus
Labels on food items produced and packaged in-house
Digital menu boards
FOOD IDENTIFICATION ICONS
Icons in rich color on digital menu boards, for example, make choices easier to make for the discerning consumer. The top 8 food allergies should be made well known to your customers if they are being used in your operations. Using an icon to identify these specific foods saves valuable menu space and creates room for aesthetics.
ICONS TO CONSIDER:
• Contains Egg     • Contains Beef     • Contains Fish/Shellfish     • Contains Pork
• Contains Milk     • Contains Soy      • Contains Nuts (both peanuts & tree nuts)     • Gluten Free
• Vegan     • Halal Friendly     • Vegetarian     • Sugar Free     • Local Ingredients     • Kosher Friendly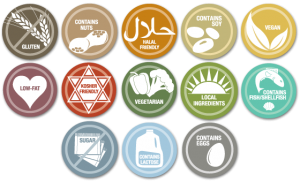 ONLINE MENUS
Online menus offer convenient access from the customer's personal computer or via mobile app. Quick access to information on what you are serving allows them to make conscious dining decisions. Customers may also appreciate your transparency and your efforts to show care for their well-being.
Consider sharing:
Methods of preparation
Customary serving size
Formulation of menu items, including variations in ingredients
LABELS ON FOOD ITEMS PRODUCED AND PACKAGED IN-HOUSE
Full ingredient listings for all menu items including nutrition information
Stickers or specially printed packaging
Labels on food items are an excellent way to inform consumers when handed packaged foods items.  These labels can be reviewed for a list of ingredients and/or nutrition facts and the customer can make a decision whether or not to consume. However, it does not present the consumer with nutritional information prior to point of purchase. Although online menus and labels on food packaging offer great value, they do not offer the opportunity to engage and inform every customer that walks in the door or pulls up in the drive thru.
DIGITAL MENU SYSTEMS

DELPHI DISPLAY SYSTEMS IS YOUR DIGITAL PARTNER IN COMPLIANCE OF SECTION 4205!

3 Panel Indoor Digital Menu Board with Nutritional Labeling

Digital menu boards ease compliance with the new legislation and may be the single most useful tool in informing and engaging customers in point of purchase decision making.
Top benefits of digital menu boards:
Create a visually dynamic and informative first impression
Keep up with menu additions easily. Manage and replace information with just a few clicks of a mouse.
Eliminate the increasing and repeating costs, hassle, and need of printing new menus with updates
Provide more essential information without taking up too much space (via rotating images, image sliders, etc.)
Use food identification icons in dynamic, full digital color to easily relate to customers' needs
Increase sales & ROI by providing key decision-making information to customers
Automated cross-sell and up-sell opportunities; suggest other healthy menu selections
Drive sales, engage and inform customers with Delphi Display Systems' Insight Engage software application for indoor and outdoor digital menu systems.  Engage software's product-centric menu creation and management tools easily allow the user to add calorie, ingredient, and other nutritional information to each catalog/menu item while presenting compelling HD content.
KEY FEATURES:
Display static or video images
Customizable by store
Utilizes micro-day parting by-store
Scalable from one store to thousands
Eddie was ecstatic when he walked into Freddie's Fast Falafel!  He was astonished by how his favorite Mediterranean café had upgraded to a digital menu system and on each screen was an allotment of ample space for nutritional and caloric information.  In fact, Freddie's food service workers had become much more aware of the information and more than helpful to Eddie when he had to make a choice which would satisfy not only his hunger but also his doctor's requirements. Eddie may not have such an issue anymore following his doctor's orders thanks to the implementation of bright and informative digital menu boards.  The answer to Eddie's health and well-being are clear and the Insight® solution!
Simple delivery and content control on digital menu boards is important to restaurants that want to introduce options for a vast array of consumers and, at the same time, stay in compliance with menu labeling laws.
Read: New Menu Labeling Requirements – Pt1: "Guidance for Restaurateurs to Get In Compliance"
References:
Related links:
http://www.whitehouse.gov/omb/0910_meeting_03152011
http://www.whitehouse.gov/omb/0910_meeting_03182011
http://www.fda.gov/Food/IngredientsPackagingLabeling/LabelingNutrition/ucm248732.htm
http://www.yaleruddcenter.org/resources/upload/docs/what/policy/CaliforniaSB120MenuLabelCaseStudy.pdf
http://www.cdc.gov/phlp/winnable/menu_labeling.html