CLIMBING TO THE TOP OF THE (FAST) FOOD CHAIN WITH LTOS
MAKE THE MOST OF LTOS WITH POSITIONING AND STRATEGIC MENU DISPLAYS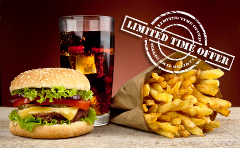 As the QSR industry faces technological pivots, its customer base now craves new experiences within every combo meal. While some fast food restaurants insist on sticking to their original selling points, some are taking advantage of this change.
Take Arby's and Starbucks, for example. Arby's introduction of the "Liger" shake and its use of venison in the drive-thru have caused quite the buzz during lunch hours. Starbucks' "unicorn shake" flooded Facebook news feeds when it hit menus. Showcasing those exclusive items on the menu proved to be a genius marketing move, where customers are still radiating triumph over smugly eating venison in the employee lunch room, or casually sipping a rainbow frap on the way to the corporate office.
These companies' tactics of positioning these items as unique LTOs proved extremely beneficial, but how exactly did they do it? Those food items are trendy, but they are still either sliced up deli meats or pure sugar, or both. Without a method behind these new foods, they would have lived out their lives as just another thing on the menu.
Their method is actually a tactful formula:
POSITION YOUR FOOD ITEM AS GROUNDBREAKING AND NEW + REPETITIVELY TALK ABOUT IT/SHOW IT OFF AS AN LTO = CUSTOMER INTERACTIONS, SOCIAL MEDIA BUZZ, INCREASED BRAND AWARENESS.
It isn't just exciting new food that helps increase QSR popularity. Up-selling/reminding customers that the product is available and ready for experiencing, and visually promoting the item is the catalyst to consumers turning their attentions to QSR brands. Will your QSR be next?
If you need help in promoting your products, contact us about one of our Order Confirmation Systems, Indoor or Outdoor Digital Menu Boards to best advertise your latest and greatest food items.