Delphi Display Systems started out revolutionizing the quick service restaurant marketplace back in 1995. As one of the first companies to manufacture an effective, durable, order confirmation system for drive-thru restaurants, Delphi grew into a versatile solutions provider for the food service industry with offerings including speed of service timing systems, indoor and outdoor digital menu boards and business intelligence platforms.
QSR remains our primary focus today, and with restaurant technologies continuously progressing in complexity and technological advances, Delphi Display Systems is a proud "solutions" provider to over 37,000 quick service restaurants worldwide.
INDOOR DIGITAL MENU BOARDS
Drive sales inside your restaurant with our indoor digital menu board (IDMB) solutions. Delphi uses only high quality professional grade screens for its indoor digital menu board installations. These provide aesthetically pleasing, vibrant and crystal-clear images for your digital menus, maximizing consumer engagement, product awareness and brand loyalty.
While our menus are highly impactful for customers, they are even more so for back-of-house management and corporate control. Franchise owners can control what is being displayed, at what time and place, whenever necessary. Store managers can easily change out LTOs to sell higher margin products or to take advantage of unique opportunities, such as concerts, school lunch breaks, etc.
With Delphi's Engage® software platform you can easily change prices, update media content and add promotional products remotely and across the enterprise, with significant cost and labor savings as compared to printing and installing static menu boards. Drive attention to new or featured key products by utilizing dynamic videos, day part driven content, and dynamic content that responds to weather, consumer preferences or other events to utilize each purchase occasion to target up-sell messages or seasonal items.
To learn more, contact our team!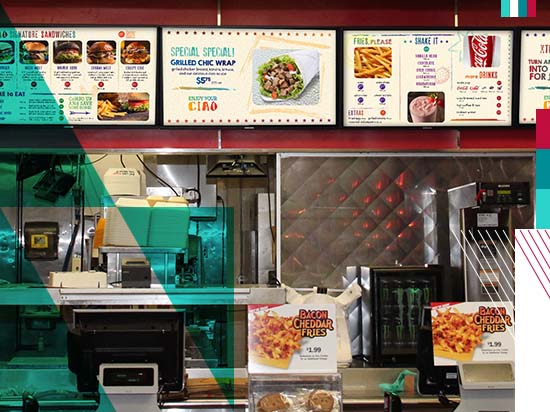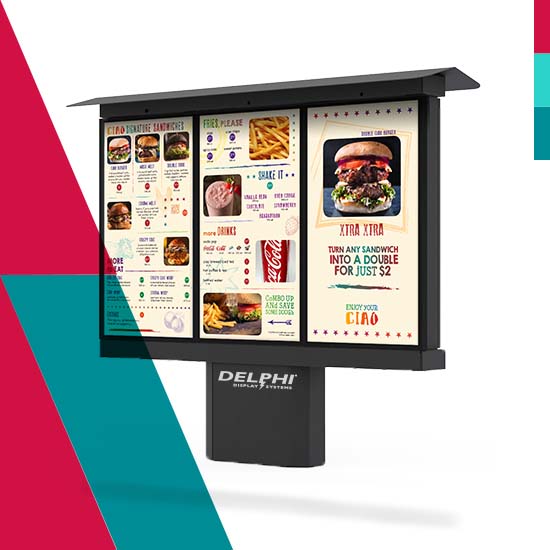 DURABLE OUTDOOR DIGITAL MENUS
Drive sales in your drive thru with Delphi's Endura line of ruggedized, outdoor digital menu board (ODMB) solutions. Delphi's Endura digital menu boards can work in tandem with our indoor digital menu boards to create effective and individualized customer experiences. Durable, sunlight readable, and responsive, these digital menus last for years with no compromise in image quality or performance. Our Endura line of ODMBs offers both 46" and 55" screen sizes that are available in single, dual and triple screen configurations.
All of our digital menu solutions can be managed remotely through our Insight Engage® cloud-based content management system web portal to allow the ability to instantly change pricing, promotions and limited time offers – all with full owner/corporate control, and scalable to thousands of locations. Additionally, our solutions can be integrated with point of sale and back of house systems to automatically synchronize pricing, nutritional information and other menu changes in real time.
Let Delphi provide you with a full-featured and robust, enterprise solution for your Quick Service Restaurant.
To learn more, contact our team!
DRIVE-THRU ORDER CONFIRMATION SYSTEMS
As the leading provider of order confirmation systems technology in QSR, Delphi's Endura® line of outdoor display solutions are the brightest, most reliable and full featured system in the market today – at the lowest possible Total Cost-of-Ownership. Our Endura® drive-thru Order Confirmation System is proven to improve accuracy, increase speed of service, drive average check and build customer loyalty for QSR operators.
Delphi's Endura line is designed to perform reliably in harsh climates and can be clearly viewed in direct sunlight. Using our proprietary LED backlight technology, the Endura display provides an exceptionally bright LCD with an estimated useful life of 10 years in the field. Our order confirmation system integrates with most Point of Sale systems in the market today including cloud and tablet based POS platforms.
To learn more, contact our team!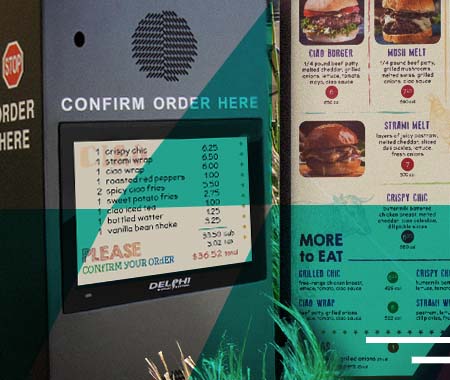 SPEED-OF-SERVICE TIMERS
Our Insight Track™ drive thru speed of service solutions measure and display detailed vehicle timing information on graphical dashboards to provide real time insight into drive through performance bottlenecks.
Delphi's timing solutions help to improve efficiency in the drive thru which drives revenue, leading to a quick ROI. Delivering high performance with ease of use, Delphi's industry-leading timers provide real-time visibility into drive-thru operations.
Multi-color visual indicators and graphs, enable managers and their crew to quickly see real-time comparisons of "actual results" to "target goals". Dashboards display percentage of goals achieved; the average times for greeting, ordering, paying, and total visit; the number of cars served; and other critical performance metrics.
Delphi's Insight™Score enterprise ranking option utilizes a real-time leaderboard display to provide incentives for stores to compete on a number of business metrics including speed of service, sales, LTO counts and more. Our timing solutions enable quick service restaurants to effectively measure, motivate, and reward team members and managers, based on improvements in "performance results" realized by increasing staff awareness of bottlenecks in your service workflow.
To learn more, contact our team!
CRYSTAL CLEAR HEADSETS
As part of our full bundle of QSR technology solutions, Delphi offers Panasonic Headsets – the New Standard for QSR Wireless Communications Solutions.
Panasonic all-in-one head set systems have been shown to improve speed-of-service and customer satisfaction with enhanced features, flexibility, comfort, and audio quality. These state-of-the-art headsets operate on the super clear 2.4 GHz frequency to eliminate radio interference, and utilize bi-directional noise cancellation to reduce vehicle noise and make customers easier to hear, along with kitchen noise reduction to improve clarify of communication between the crew and the drive thru customer.