KEYS TO SUCCESSFUL QUICK SERVE RESTAURANT UP-SELLING
Many restaurant owners are uncomfortable with "up-selling" techniques, where you try to get the customer to buy more when they order.  "I don't want my employees to be pushy. That would drive away customers. Customers will buy what they want." Well, what if there was a way that you could increase the average check and give customers more of what they want in a more satisfying experience?
Up-selling is an easy and rather practical solution that will immediately make an impact on the profitability on your business. An up-sell occurs after a customer has already committed to making an initial purchase; usually their main entrée. Restaurant studies have repeatedly shown that when presented with an appealing offer related to their current order, a majority of customers will purchase the up-sell item. After all, who doesn't want to pair a cold, refreshing drink with a juicy burger on a hot summer day? With this information comes many opportunities to further serve the customer's perceived or unperceived needs and desires.
3 OVERLY-COMMON UPSELLING MISTAKES
Often, there are many points in the ordering phase where an employee interacts with a customer. Missed and unidentified opportunities to up-sell usually occur with an untrained staff.
Being overly aggressive and eager to make a sale does not usually end with the customer making a purchase.
The up-sell attempt results in rejection because the product did not relate to the customer's needs.
Learning to up-sell is a virtue and identifying the products and proper times to present them in the order process is vital to up-sell success. A well-trained staff can take advantage of the various opportunities to up-sell and offer customers a previously unperceived value. When your restaurant staff treats each sale uniquely and makes use of the following up-sell techniques, your restaurant will be one step closer to reaching the Holy Grail: increased average check and repeat business.
"Every sale has five basic obstacles: no need, no money, no hurry, no desire, no trust"
–Zig Ziglar
TOP 5 TIPS FOR AN EFFECTIVE UP-SELL
1. Find out what and when to up-sell.
Consider the time of day and the weather. Offering certain food items, such as Orange Juice with a breakfast sandwich, makes sense in the morning. Know which items go well with others and be able to actively make a recommendation soon after a related product has been selected. Suppose it's a hot summer day and customers are coming looking for relief from the sweltering sun. Identifying this customer need early on could propel the day's sales of high margin cold drinks and frozen dessert items.
2. Present the items.
How often have you noticed stacks of cups right next to the register? Fountain drinks have a really great margin and are one of the most common items to up-sell with a meal. Eye-catching images on digital displays and actual physical product allow a customer to examine the product and gain a sense and feel for having the item. At the same time, your staff can promote the features and the value of making the additional purchase.
3. Make the up-sell attractive and enticing.
Oftentimes, people would like additional items, but may be hesitant to overindulge or spend too much. Using attractive and descriptive language, such as, "would you like to cool down today with an ice-cold raspberry-chocolate sundae?" help activate the emotional decision making process. Restaurant staff should be knowledgeable and seem excited about the food they are selling. In addition, a pleasant tone of voice will resonate positively with customers and leave them feeling more open to an up-sell opportunity.
4. It never helps to be pushy or aggressive.
An up-sell should be made in passing and in relation to a product that the customer is already considering to purchase. It is important to be subtle with up-sell techniques; otherwise, the customer could feel pressured.
5. Down-selling captures sales.
Suppose a customer is on a tight budget. Down-selling is achieved by first offering a more expensive item, which the customer in this case will refuse. The customer is then offered a similar item with fewer features and at a lesser price. The economically-savvy customer will perceive this as the more reasonable item with a higher value.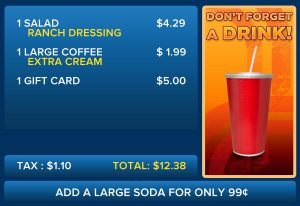 DELPHI'S ENDURA ORDER SCREEN
UP-SELL AUTOMATION
In the words of Peter Drucker, "Nothing is less productive than to make efficient what should not be done at all." Restaurants need to know what items relate to the original product being ordered. It's as simple as "would you like fries with that?" Product-related understandings are commonplace in many restaurants, but did you know that they can be integrated digitally into your menu board?
As a restaurant owner, you probably make sure your staff knows how to up-sell customers who order particular products. Programming an up-sell into a digital menu board or order confirmation system is really no different and Delphi Display Systems makes this process quite easy using the Insight Engage® software solution!
Imagine a customer pulls into your drive-thru restaurant on a cold winter day. They order a hot entrée and are looking on the menu board for a potential complementary side dish. Can you guess what that customer ordered next? In a split second, an image of a steaming bowl of hot soup appears on the order confirmation screen. This is an example of an effective up-sell. The menu board technology had already read the current temperature outside via a built-in sensor. The content was programmed to populate the hot soup image when a certain temperature condition had been met and a specific entrée had been ordered.
If you aren't up-selling your customers, you won't be able to maximize your revenue. Indoor and outdoor digital menu boards and order confirmation systems offer key benefits including: presentation quality, visibility, dynamic colors, and rotating messaging. Delphi's digital menu board and order confirmation technology solutions can help restaurants create a top notch overall experience by engaging employees in a culture of operational excellence, thereby improving productivity and driving sales.
Delphi provides a complete video display solution for quick serve restaurants, convenience stores and petroleum retail locations.