NOW IS THE PERFECT TIME TO ACCELERATE YOUR DRIVE-THRU'S PERFORMANCE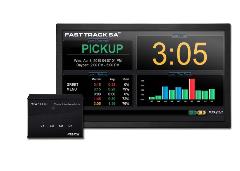 New Technology Drives QSR and Fast Casual Restaurant Profitability

If you're running a chain of quick service restaurants, you know all too well the real difference that incremental improvements can make to your bottom line. Small changes can yield big profits if done correctly. But, identifying the right technology solution can be extremely challenging. Here are a few things to consider when seeking the right solution to increasing your restaurant's profitability:
OCS Delivers Happy, Repeat Customers

Order Confirmation systems are the number one priority for quick service and fast casual restaurants looking to increase customer satisfaction, accelerate overall speed of service, and reduce waste. Getting your customer's order correct is the top priority, and providing a confirmation opportunity at key touch-points along the drive-thru conveys confidence and reduces delays (from customer's checking the accuracy of their orders before leaving the drive-thru window).
Timers Drive Teamwork and Shared Successes
Visibility into your team's performance is critical in identifying the adjustments needed to achieve additional profits. Realizing up-to-the-minute data on SOS, unit, and revenue performance is highly impactful, both for improving restaurant management best practices and for motivating the crew. Encourage your staff to improve their results, and better understand the flow of your day-part traffic by leveraging the latest technology in Drive-thru timer solutions.
First-class Service Caters to the Unique Needs of QSR and Fast Casual
Down-time on your equipment can be devastating to customer satisfaction and loyalty. Be sure to select a vendor who provides specialized service programs that cater to the unique requirements of QSR and Fast Casual restaurants. Identify if a vendor offers an exceptional level of service: Do they provide 24/7 access to technical support? A 5-Year Advance Exchange program that immediately ships replacement products, minimizing your down time? Nation-wide service technicians focused on helping improve system functionality and implementation? Comprehensive application training and workflow development?
My experiences at Delphi Display Systems have confirmed the real-world value these systems bring to my customers, on a daily basis. Our offering encompasses all of these technologies and services, and our many years of happy, loyal customers continually reaffirms the unique value we provide to QSR and Fast Casual restaurateurs worldwide.